Laundry,
made easy
Get started with our gentle, fragrance free, biodegradable laundry pre soak powder—a simple soaking solution designed to deep clean your laundry and remove tough stains.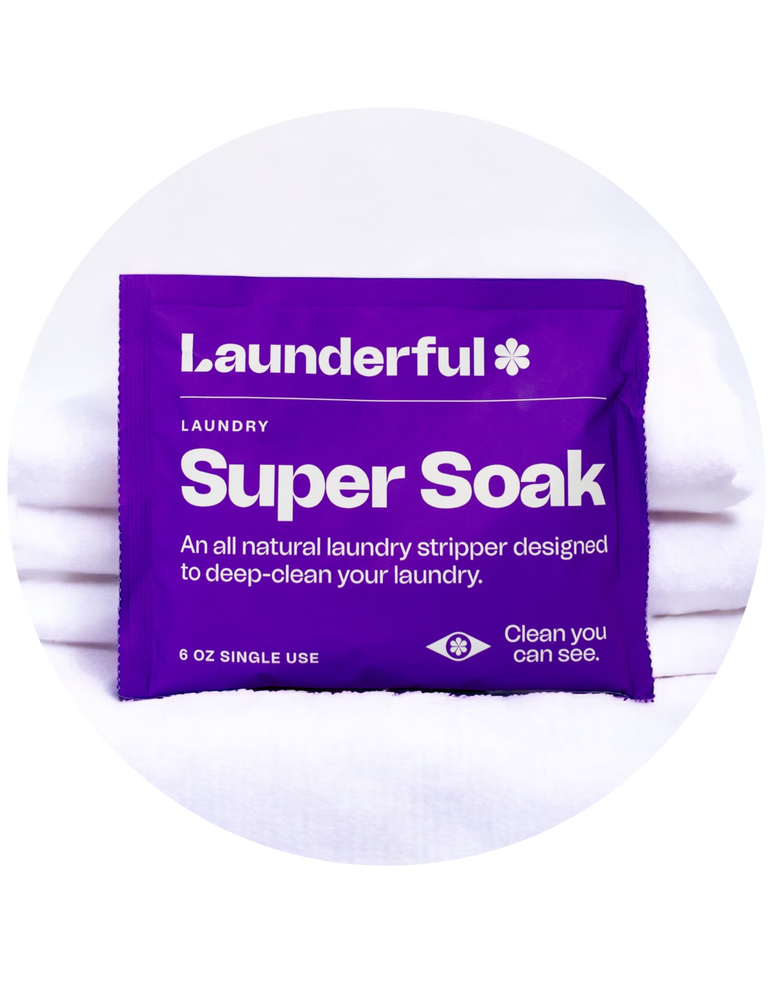 SAY GOODBYE TO GRIME.
It's time to air the dirty laundry. After a traditional washing cycle, your clothes are still dirty. Today's concentrated detergents, soaps, dryer sheets, and softeners leave behind layers of residue, while hard-water minerals and body oils build up over time.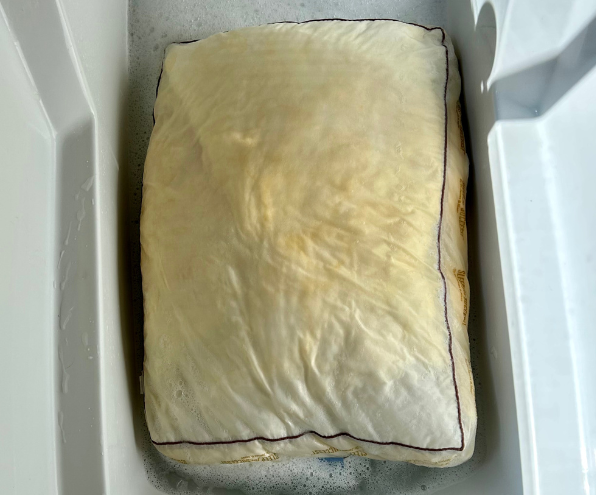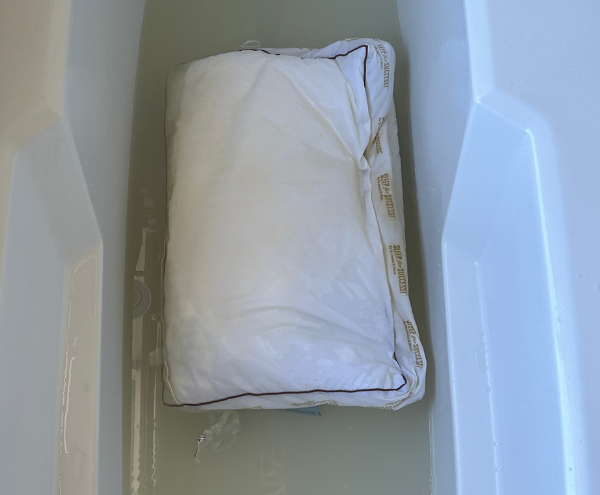 Find your feel-good freshness.
We've got the powder for the problem. Whether you're balancing work-life, kids, pets, or everyday wear and tear, the fibers of your favorite fabrics collect a lot of gunk. Trade conventional harsh, Earth-harming concoctions for safe, natural ingredients that get the job done.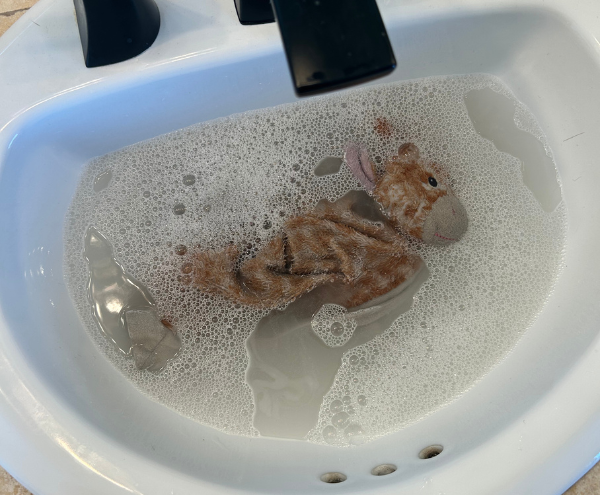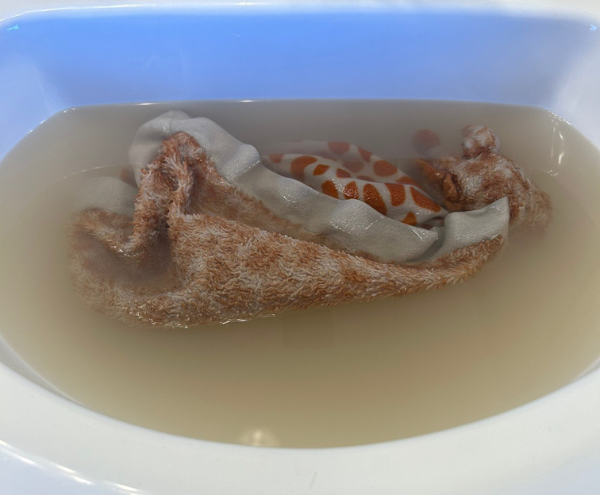 Sustain your style.
Let us lighten your load. Launderful makes your laundry care simpler, more joyful, and a little less messy. Launderful's laundry pre soak powder is gentle and biodegradable, without compromising effectiveness.
SuperSoak
We've taken the guess work out of deep cleaning your soft goods with our easy to use single pour packet makes.

Laundry stripping, simplified.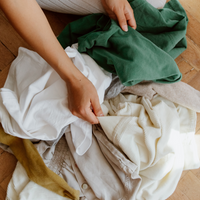 1. SORT
Separate items by color, type, or texture.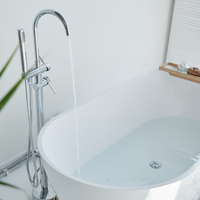 2. Submerge
Fill your tub, sink, or top-loading washer with warm water and immerse.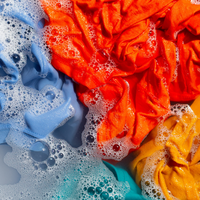 3. SOAK
Sprinkle powder from a single packet, stir, and let sit for 8 hours.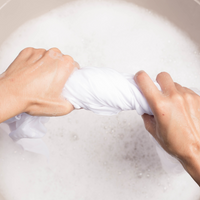 4. SQUEEZE AND RINSE
Ring out the water before adding to your rinse cycle in your washer; dry as usual.
Learn more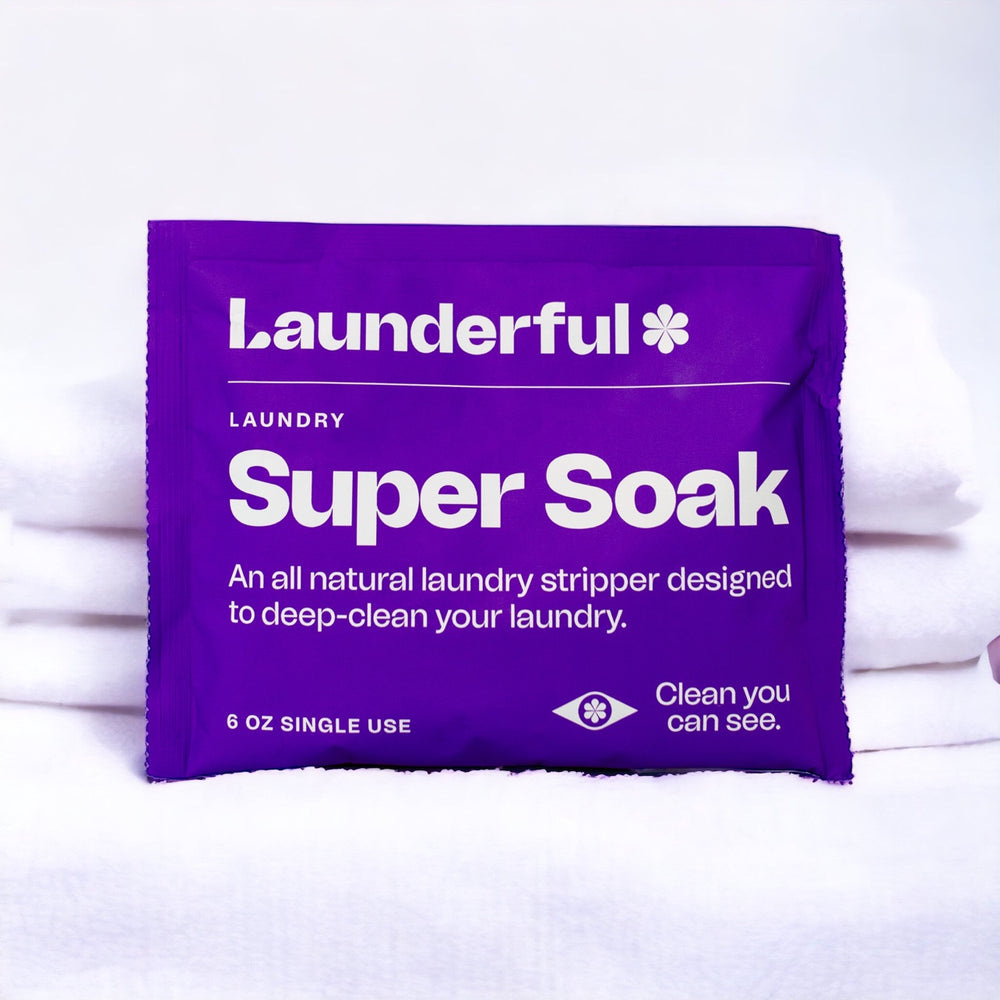 SuperSoak
The first (and only) non-toxic, fragrance free, biodegradable laundry pre-soak you'll ever need. Launderful's pre-soaking powder is designed to deeply clean your soft goods and get rid of all that leftover residue, dirt, grime, sweat, odor and set in stains. A single packet works to penetrate the fibers, remove buildup, release hard-water minerals, and loosen dirt and residue trapped in fabrics. SuperSoak is a great addition to your laundry routine for those days when your items need a deeper clean. 
Why SuperSoak?


Explore the benefits of Launderful's deep-cleaning soaking method.
Deep cleans better than any other laundry stripping product
Freshens, fluffs, and softens your fabrics and soft goods
Reduces impact with Earth-friendly ingredients and packaging
Removes invisible odors, residues, dirt, oils, and buildup
Sustains your belongings, saves money, and maintains quality
Offers a safer, gentler, easier-to-use solution for sensitive skin
SuperSoak vs. DIY
DIY Hacks
SuperSoak
Clean, biodegradable ingredients — safe for us and our environment
Ready-to-pour packets — pre-measured, no calculations required
Fragrance-free — no allergens, carcinogens, dyes, or phthalates
Ethically created — made in the U.S.
Minimal packaging — saves space, less waste in landfills
You asked, we answered.
Laundry stripping is a deep soaking method used to remove light stains, dirt, heavy odors, and leftover residue from your traditional laundry routine. The soak works by pulling all the grime from your items and dissolving it into the water —  our proprietary formula prevents the undesirables from re-absorbing into your soft goods.
SuperSoak is safe, fragrance free and biodegradable. It contains three natural ingredients: sodium carbonate, the mineral-based cleaner Borax, and our signature proprietary enzyme blend. Think of SuperSoak like a probiotic, for your soft goods.
Laundry stripping is safe for all fabrics, unless your item says" dry clean only" on its care tag. SuperSoak is gentle, though it's best to soak spandex and other delicates for no more than 4 hours.
We recommend stripping your laundry every three months for regular wear items. For items that get a lot of loving wear we recommend soaking them as needed. Laundry stripping can also be useful when you have an immediate stain removal emergency. SuperSoak works best when given the full 8 hours of soaking time!
SuperSoak works best when given the full 8 hours of soaking time. We recommend keeping the soaking time under 12 hours.
Yes! You can choose to soak your items in a bathtub, sink, or in your washing machine, if it's a top-loader
We recommend using only half of a packet if you have one or two items that you'd like to soak in your sink. This quick care method is a great solution for getting out a tough stain right away
Our formula packs a very powerful punch, but we can't guarantee that it'll work on set-in stains. The best technique for avoiding stains penetrating into fibers is to always pre-treat your items. Tackle all stains as soon as they happen! When it comes to odors, our formula will remove funky scents and make your soft goods smell super fresh.
It is important that you feel satisfied with our products and if you are disappointed with the results please reach out to our customer service team at Info@launderful.co as we don't currently accept returns on our Super Soak.